Zipper Necklace silver
Beautiful Dutch Design jewel of French Nieuwenborg. Made of sterling silver.
Escher cufflinks
Set of two polished stainless steel cufflinks. Packed in gift box. Gift Box Dimensions: 66 x 66 x 26mm
Escher puzzle
Hand with ball of M.C. Escher puzzle 1000 pieces and small poster in the box.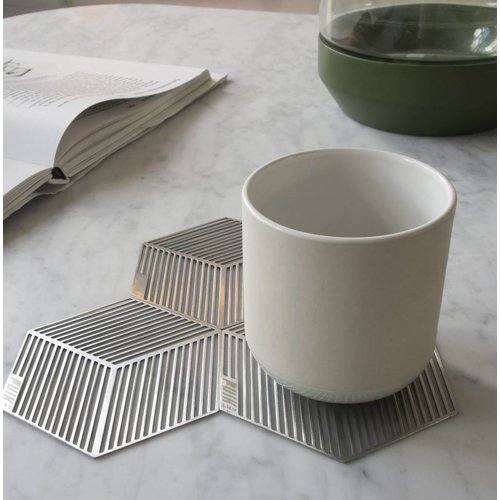 Seco coasters
The design for the 'Seco' coaster began as a doodle, playing around with angles and geometrical shapes. Simplicity was core to its design with the intention to create a variation of this every day object that is pleasing to the eye.
14 days to change your mind
Mini Escher puzzle
Mini Escher puzzle 210 pieces 17x 17 cm.
Wine Cooler 'Hat'
Wine Cooler 'Hat' is made of the material EPP. This material is well known for its insulating effect. A perfect design and Hat keeps your wine cool! The design itself is simple yet provides a unique and complementary effect on your table