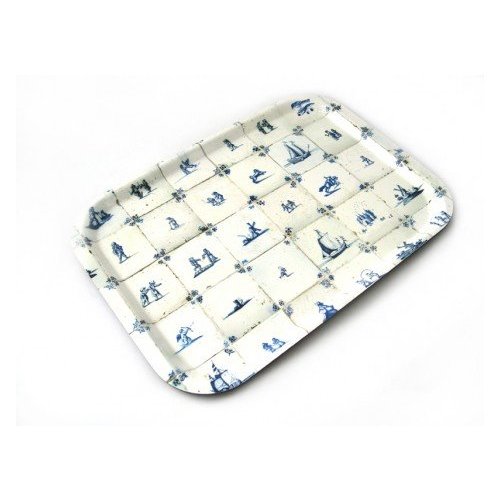 Tray with Delft blue tiles
Tray with Delft blue tiles. 37.5 x 26.5 cm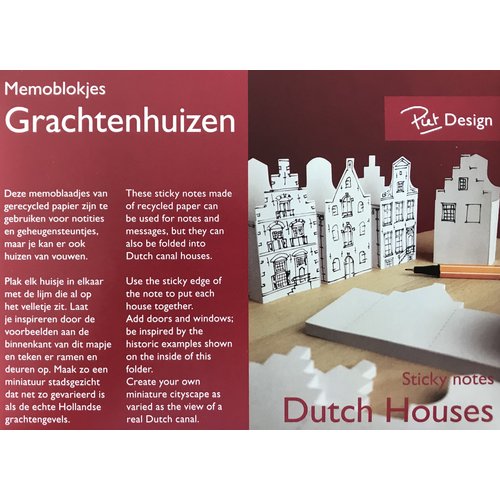 Canal houses sticky notes
These memo pads made of recycled paper can be used for notes and reminders, but you can also use them to build canal houses. Step gable and neck gable 2 blocks of 25 sheets and spout gable and bell gable 1 block of 50 sheets.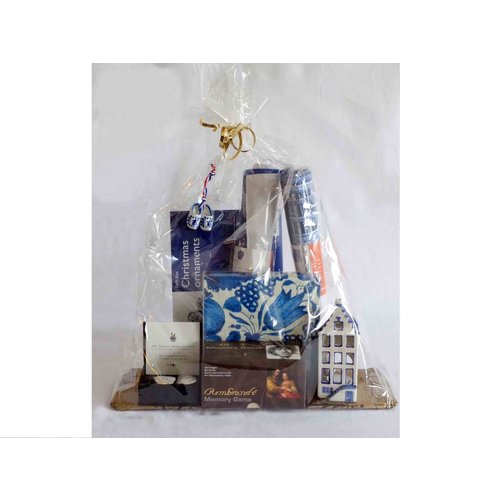 Complete Dutch gift package
This gift package is a culture festival in itself. Very topical because the Night Watch will soon be restored and you are already responding to this with this package. A package with a story! content; Zeeland mussel cutlery in a nice box, Rembrandt Rijksm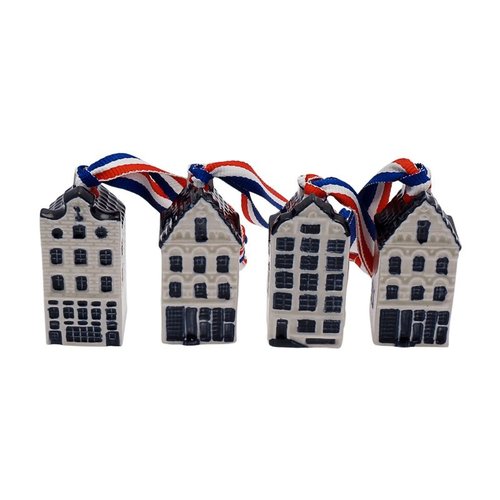 4 canal houses on ribbon
4 different Delft blue canal houses on a red white blue ribbon. Fun in the Christmas tree, or as a gift with a new house. 5 cm
14 days to change your mind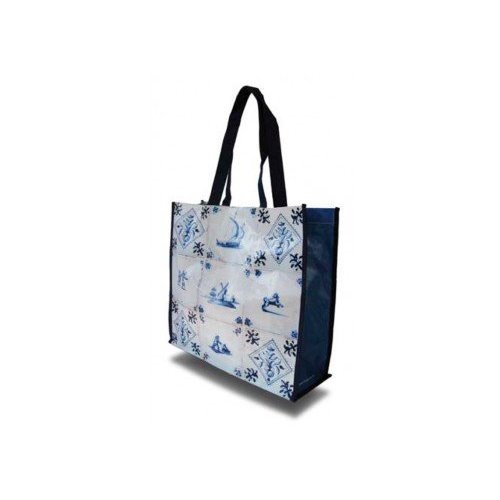 Shopping bag Delft blue tiles
Shopping bag with long handles and a Delft Blue tile print.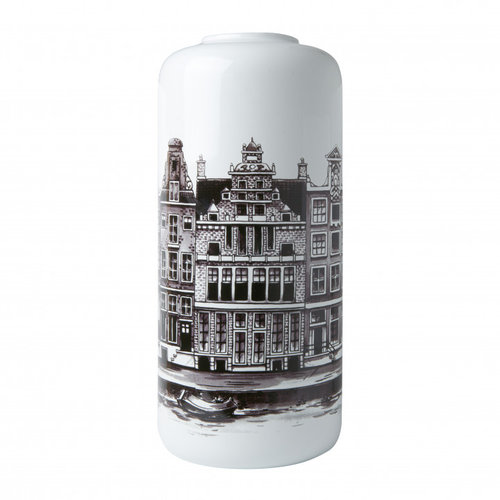 High vase with canal houses
You do not have to put this beautiful vase away if there are no flowers in it. It is a viewing object in your closet with the canal houses all around it is always a different picture. 30cm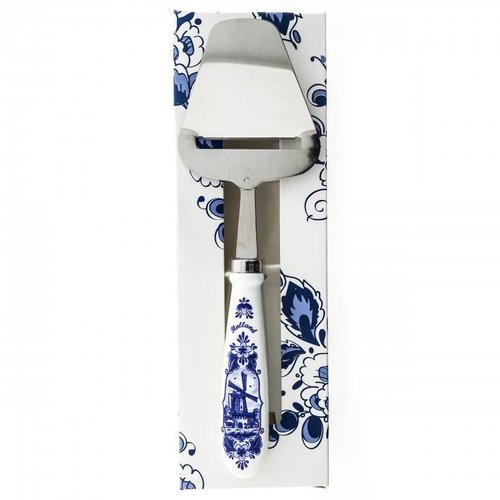 Cheese slicer Delft blue
A very Dutch product this cheese slicer! Size 23.5 cm and comes in gift box.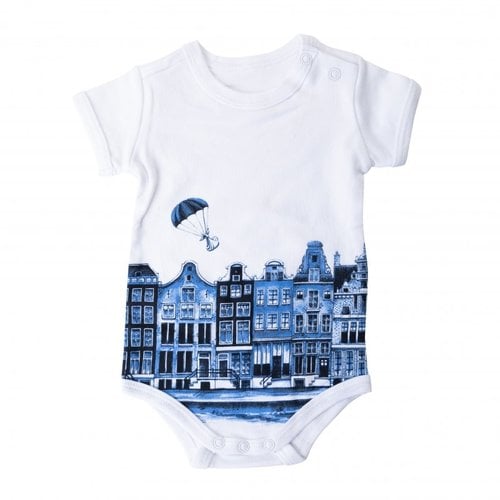 Baby Delft blue baby bodysuit
Cute bodysuit for the Dutch baby. Print front and back, soft 100% cotton quality. For the baby from 0 to 9 months.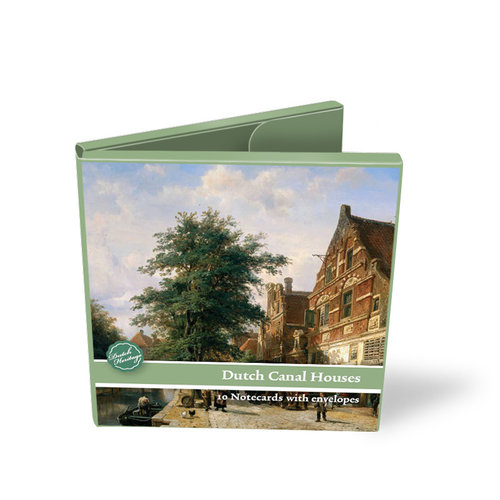 Folder cards canal houses
Card wallet, with beautiful tulips. Set of 10 double cards with envelopes, in 5 designs. Without text on and in the card, so suitable for any occasion. 12 x 12 cm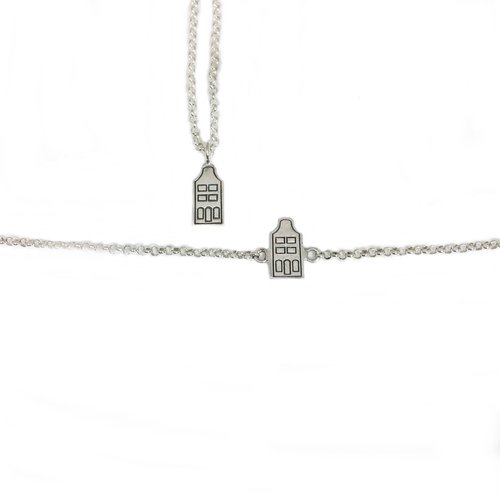 Canal house bell gable necklace and bracelet
This canal house set is sweet and cool. Sterling silver, Dutch design, handmade. A perfect gift for your relationship as a memento of the typical Dutch canal houses.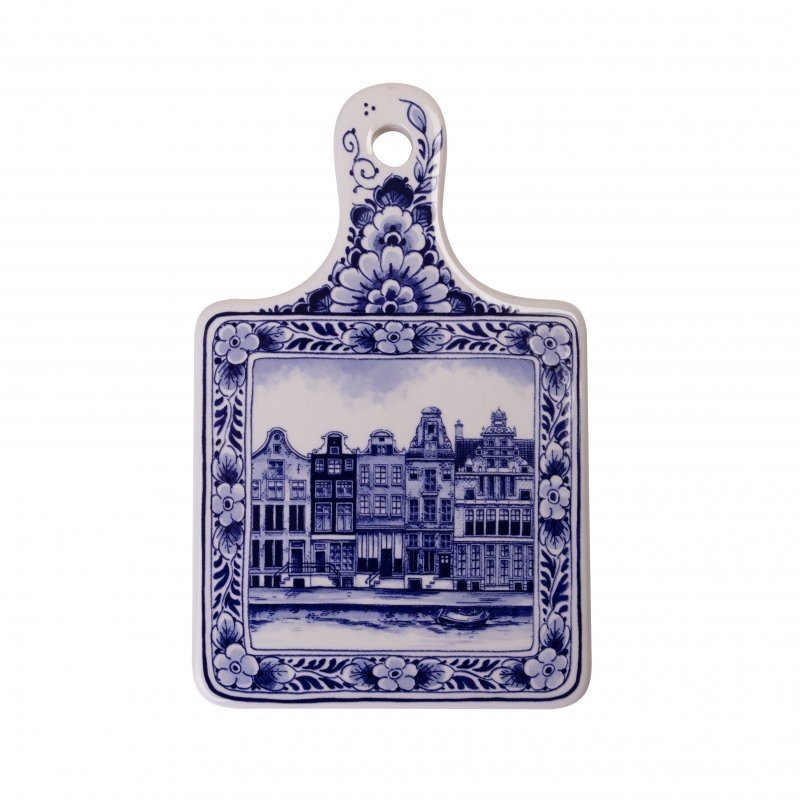 Canal houses
Canal houses are a typical Dutch heritage. The stately buildings can be found in all cities and are both practical and functional. Usually the houses are high, narrow and deep because the load was imposed on the basis of the width of the facade. Due to the danger of flooding, the front door is sometimes on the main floor and the building is accessible via a platform.
Here is an overview of products with images of canal houses, or in the form of a canal house.
Read more
Read less