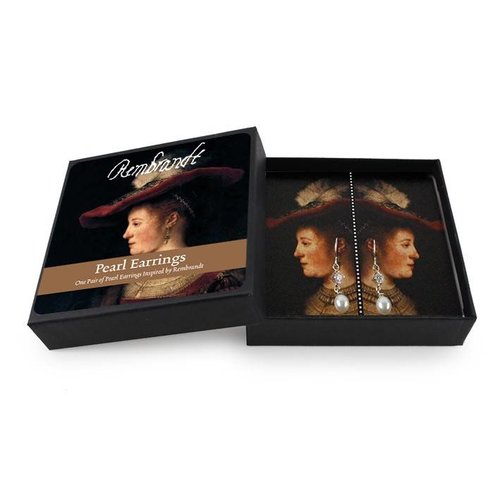 Earrings by Saskia the wife of Rembrandt
Earrings with pearl and rhinestone on silver pendant. For Rembrandt, his wife was an important source of inspiration for a large number of his works. For example, he portrayed Saskia as a Roman goddess, an oriental princess and a Biblical figure. In addit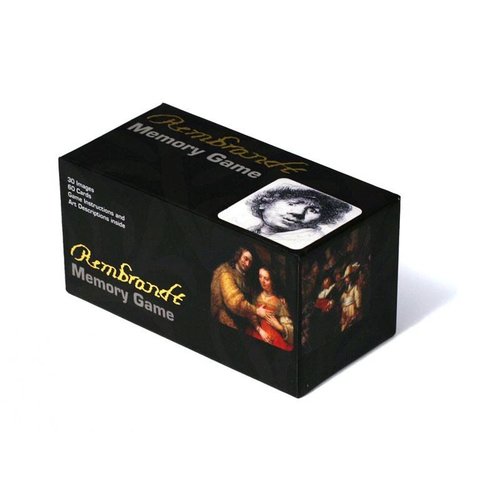 Rembrandt memory
Memory game with the theme of Rembrandt's masterpieces. Find the pictures together. Fun for young and old. Guaranteed that the winner of this game can call himself a true Rembrandt expert!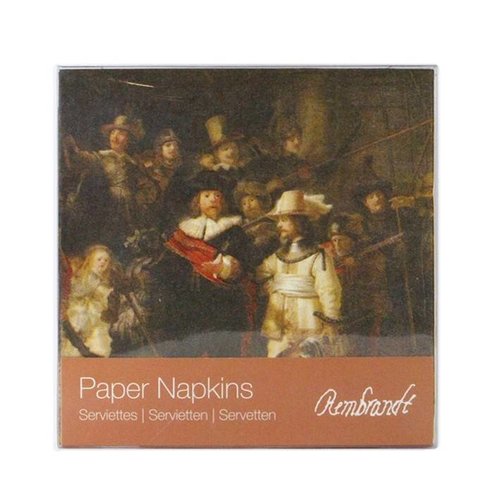 Night watch napkins
Beautiful paper napkins Rembrandt's Night Watch in transparent packaging with free postcard.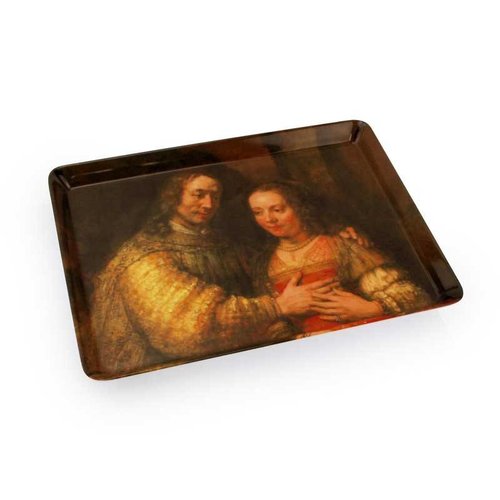 Tray with the Jewish bride of Rembrandt
This image represents a man and a woman in intimate embrace. The title, The Jewish Bride, should not be taken too literally; perhaps the painting does not represent a Jewish woman, and whether she is the bride or the consort of the man is not certain eith
14 days to change your mind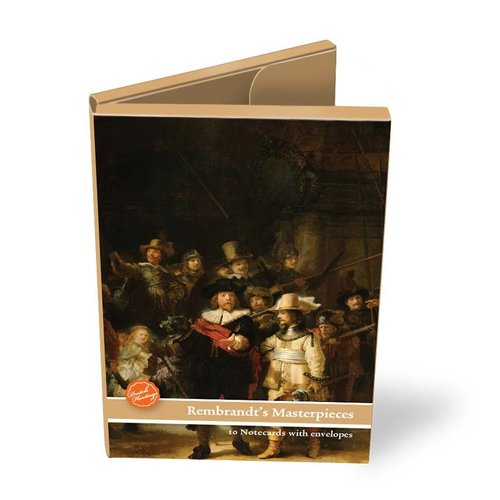 Map cards Rembrandt
Card folder, with Rembrandt's masterpieces. Set of 10 double cards with envelopes, in 5 versions. Without text on and in the map, so suitable for every occasion.12 x 17 cm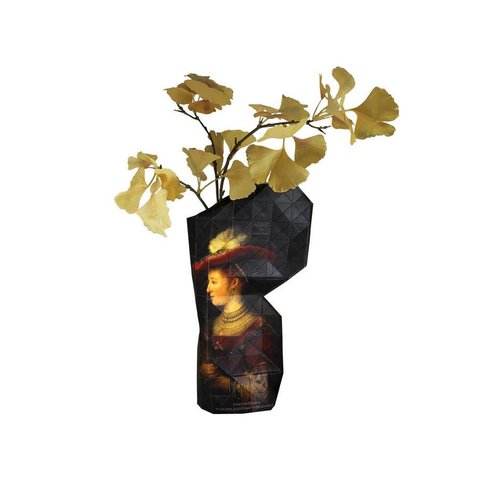 Paper vase Cover Saskia van Uylenburgh - Rembrandt
Empty bottles can literally be found anywhere in the world; from well-off and developed areas to impoverished slums in the city. And they can hold their water, making it an ideal vase. The only thing that is needed to make it look beautiful is a nice cove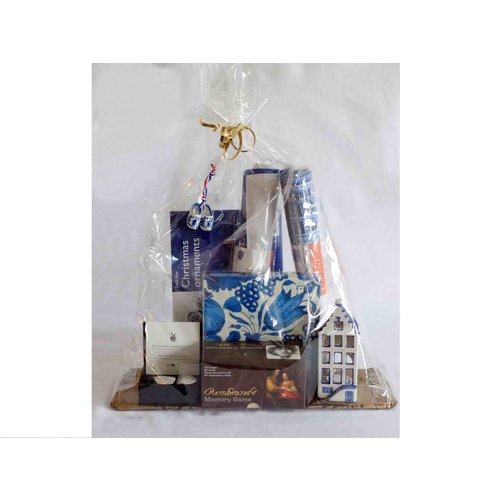 Christmas or gift package
This Christmas package is a culture party in itself. Very up-to-date because the Night Watch will soon be restored and you are already responding to this package. A package with a story! content; Zeeuws mussels cutlery in a beautiful box, Rembrandt Rijksm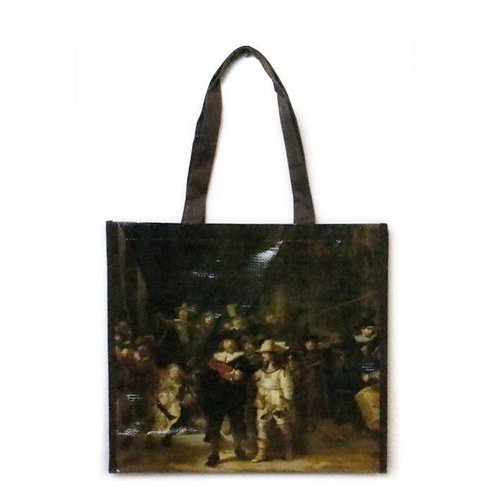 Shopper Night Watch
Shopping bag with image of the Night Watch of Rembrandt. The bag has long shoulder rods and is plasticized, so that it can withstand a bump and some rain. 30 x 30 x 40 cm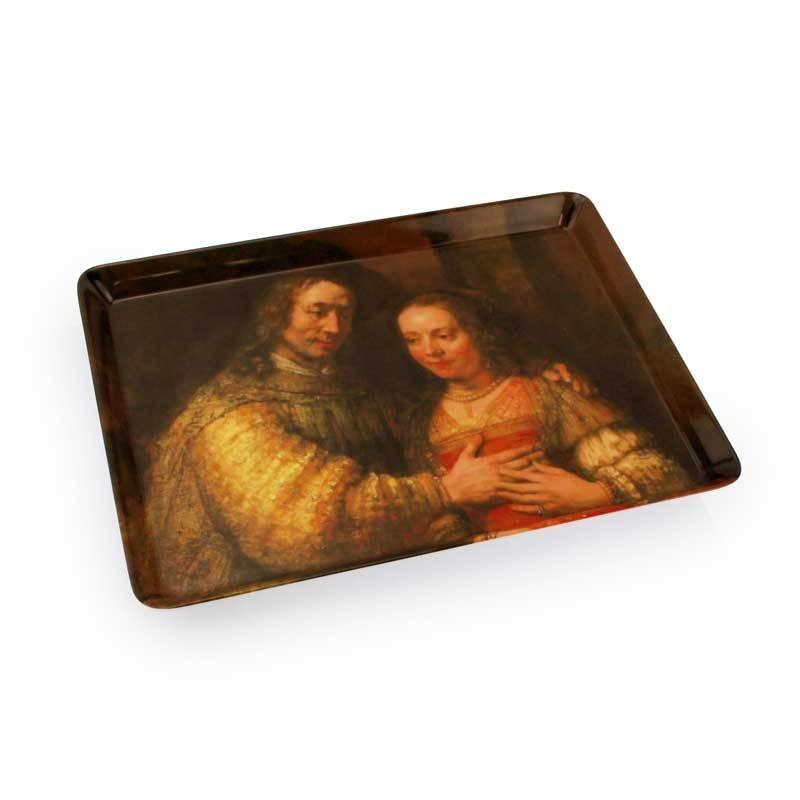 Rembrandt
Rembrandt Harmenszoon van Rijn (Leiden, 15 July 1606 - Amsterdam, 4 October 1669) was a Dutch painter, etcher and draftsman. He is generally regarded as one of the greatest painters and etchers in European art, and as the most important Dutch master of the 17th century. Rembrandt produced a total of about three hundred paintings, three hundred etchings and two thousand drawings. His work belongs to the baroque and is visibly influenced by caravaggism, although he never went to Italy. His remarkable control of the play with light and darkness, often using sharp contrasts ( clair-obscur ) to enter the audience into the performance, led to lively scenes full of drama. Rembrandt's oeuvre is used by art historians divided into five periods, starting with the Leiden period (1625-1631). From about 1629 onwards, as an artist, in which Rembrandt began to work with contrasts and his interest in light treatment, austerity began to take effect after 1640. In the 1650s, brush strokes are clearly visible and the colors richer.
Read more
Read less